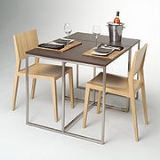 Furniture
noun
(1)
Furnishings that make a room or other area ready for occupancy
"They had too much furniture for the small apartment"
"There was only one piece of furniture in the room"
Etymology
From < .
Noun
The harness, trappings etc. of a horse or other animal.
Usage notes
Before the end of the nineteenth century, the plural existed in Standard English in both the U.S. and the U.K.; during the twentieth century, however, it ceased to be used by native speakers.
A single item of furniture, such as a chair or a table, is often called a .