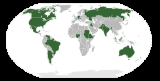 Federation
noun
(1) The act of constituting a political unity out of a number of separate states or colonies or provinces so that each member retains the management of its internal affairs
(2) A union of political organizations
(3) An organization formed by merging several groups or parties
Noun
An array of nations or states that are unified under one central authority which is elected by its members.
The act of joining several states into the federation. (Australia)

It is 106 years since federation.
Adjective
Of an architectural style popular around the time of federation.

We live in a federation house.
----