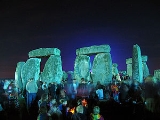 Community
noun
(1) (ecology) a group of interdependent organisms inhabiting the same region and interacting with each other
(2)
The body of people in a learned occupation
"The news spread rapidly through the medical community"
(3)
A group of people living in a particular local area
"The team is drawn from all parts of the community"
(4)
A group of people having ethnic or cultural or religious characteristics in common
"The Christian community of the apostolic age"
"He was well known throughout the Catholic community"
(5)
A group of nations having common interests
"They hoped to join the NATO community"
(6) A district where people live; occupied primarily by private residences
(7)
Common ownership
"They shared a community of possessions"
(8)
Agreement as to goals
"The preachers and the bootleggers found they had a community of interests"
Etymology
From
communité
(French:
communauté
), which is derived from Classical Latin
communitas
.
Noun
Group of people sharing a common understanding who reveal themselves by using the same language, manners, tradition and law. (see civilization).
Commune or residential/religious collective.
The condition of having certain attitudes and interests in common.
A group of interdependent organisms inhabiting the same region and interacting with each other.
(Virtual) A group of people interacting by electronic means for social, professional, educational or other purposes. (see virtual community).