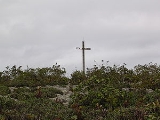 Christian
adjective
(1) Following the teachings or manifesting the qualities or spirit of Jesus Christ
(2)
Relating to or characteristic of Christianity
"Christian rites"
noun
(3) A religious person who believes Jesus is the Christ and who is a member of a Christian denomination
Etymology
From
Latin
Chrīstus, from
Ancient Greek
Χριστός, noun use of χριστός,
khristos
meaning
anointed
. The word Christian is first used in Antioch, according to Acts xi.25-26.
Noun
A believer in Christianity.
An individual who seeks to live his or her life according to the principles and values taught by Jesus Christ.
Proper noun
found in England since the twelfth century.
of medieval usage, rare today.
Adjective
Of, like or relating to Christianity or Christians.
Kind, charitable.

That's very Christian of you.
To non-Christians, this may be an offensive usage (similarly, see the offensive usage of Jew)
Synonyms
(kind): xian, charitable, helpful, kind, neighborly/neighbourly, sweet (informal)
See also
fundamentalist
Jew
Protestant