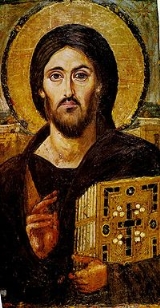 Christ
noun
(1) Any expected deliverer
(2) A teacher and prophet born in Bethlehem and active in Nazareth; his life and sermons form the basis for Christianity (circa 4 BC - AD 29)
Etymology
, from , from , proper noun use of , in translation of (see ).
Proper noun
"The Lord's 'anointed one' (or 'messiah')" predicted in Jewish prophecy.

For there shall arise false Christs, and false prophets, and shall shew great signs and wonders; insomuch that, if it were possible, they shall deceive the very elect. (Matthew 24:24)

The title given to Jesus of Nazareth, seen as fulfilling messianic prophecy; often treated as a personal name.
Related terms
Interjection
An expletive, whose use is considered blasphemous by most Christians.
Related terms
chrétienté
christ (artistic representation of Christ)
christianiser
christianisme
christique
Jésus-Christ
----
Noun
a Christian (male) (female=Christin)

1888: Friedrich Wilhelm Nietzsche, Der Antichrist, § 58

Nihilist und Christ: das reimt sich, das reimt sich nicht bloss.

Nihilist and Christian: they rhyme, and do not merely rhyme…