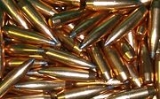 Bullet
noun
(1)
(baseball) a pitch thrown with maximum velocity
"He swung late on the fastball"
"He showed batters nothing but smoke"
(2) A projectile that is fired from a gun
(3) A high-speed passenger train
English
Noun
A projectile, usually of metal, shot from a gun at high speed.
A printed symbol in the form of a solid circle, •, often used for marking items in a list. (see also bulleted)
An entire round of unfired ammunition for a firearm, including the projectile, the cartridge casing, the explosive charge, etc.
One year of prison time
An ace (the playing card).