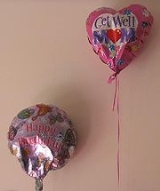 Balloon
noun
(1) Large tough nonrigid bag filled with gas or heated air
(2) Small thin inflatable rubber bag with narrow neck
verb
(3)
Become inflated
"The sails ballooned"
(4)
Ride in a hot-air balloon
"He tried to balloon around the earth but storms forced him to land in China"
Noun
An inflatable buoyant object, often (but not necessarily) round and flexible.
Such an object as a child's toy.
Such an object designed to transport people through the air.
A sac inserted into part of the body for therapeutic reasons; such as angioplasty.
A speech bubble.
Verb
To increase or expand rapidly.

His stomach ballooned from eating such a large meal.
Prices will balloon if we don't act quickly.
See also